Trip Preperation
It is recommended that you separate the gear you will be wearing to and from Northern Tier from the actual gear you will be taking on the canoe. Northern Tier provides lockers at base camp that we will leave our travel gear in. They recommend that you use a small duffel or backpack for your travel gear. Do not use a suitcase because the lockers have limited capacity.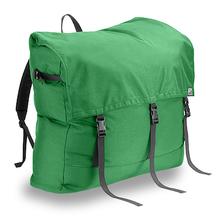 Pack Light and Compact
All gear going on the canoe should be able to fit inside a 5-gallon container. This is not much space so pack wisely. A compression sack that holds your sleeping bag and clothes may be beneficial. Each canoe is issued one Duluth style pack (photo on left) 6,000 cubic inches measuring 26" x27" x8.5". This pack is intended to hold all three participants personal gear and a tent.
There is a wide variety of manufactures and styles of compression sacks that you may want to consider. You can purchase them at many outfitters including Galyans, Sunnys, REI and the low cost provider Campmore.
Comprehession Sacks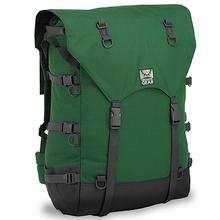 Granite Pack
Northern Tier has a local company make their gear bags which they state resemble a Granite Pack (pictured right). Each crew will be issued 1 Duluth pack per canoe which will hold all their personal gear (sleeping bags, clothes, etc.,) as well as their tent. Each crew will also be issued three plastic storage bins approximately 18"x18"x30" which will hold food and cook / camp gear.
This means each canoe will have two packs One for personal gear and one for food or cook/camp gear.
Gear Preperation
I spoke to a crew that exited Northern Tier Thursday June 20th to get their recommendations and insights. They indicated that during portages the gear was extremely heavy. The food bins each weighed between 60 and 75 pounds at the start of the trip. The gear bin weighed 75 pounds. At the end of their trip they had much food left over and way too much drink mix. They recommend that we be very carefull on how much food and drink mix we take because you have to carry it on all portages. They stated that the food they were issued could have fed at least two additional crew members. This made for alot of food returned at the end of the trip and much weight carried at portages that they needent have done.
No scouts were allowed to take sandals on the trip. The staff was very strict on this. Also boots became very important. This crew departed from Atikokan and the portage trails were extremely rocky and not well maintained. They wore wet shoes in the canoe and the boots during portages. No participant was allowed to be bare foot at any time in or out of the water.
The equipment check list (PDF, Excel) has been modified to reflect the gear they recommend we add to the list. One example was a large sponge per canoe to keep the floor dry. The person sitting on the canoe floor will greatly appreciate this.
They recommend that we start each day early so that we reach our daily destination by 1:00PM. They recommend that your long pants be the quick dry thin material that have the zip off legs. The sun is very intense on the water.
The intrepiters have been trained in canoe sailing, trail suna's and paddle wreseling. These seem to be very enjoyable activities that we take advantage of.
Fishing
They indicated that where they were the fish were hitting on jigs, spinners and Dare Devils.
Merit Badge Opportunities
Each scout attending this trip is at a different stage of merit badge attainment. It has been suggested that we provide the opportunity for scouts to work on applicable merit badges during our expedition. I believe that the following list represents merit badges in which you could earn in their entirety or most of the requirements during this trip.
When you review the requirements you will notice that a couple of them will need work outside of this outing (Camping, Cooking, Nature).
If you are interested in working toward one of the above merit badges, we will try to ensure that a counselor is in your crew to assist you.
Please request your blue card(s) from your troop prior to the trip. Bring the blue card with you on the trip. If you have met any of the requirements prior to this trip please have them signed off by your scoutmaster prior to the trip. We will sign all requirements met on the expedition while you are at camp.
Our Canoes
Click on the We-no-nah logo to go directly to their web page.
We have reserved the Minnesota II for our trip in the Boundary Waters Canoe Area Wilderness. Due to its exceptional performance and capacity, this is the canoe of choice for knowledgeable lake-country explorers, park rangers, and professional camping or fishing guides.
If you travel in Minnesota's BWCA, or Canada's Quetico Park, you'll see lots of these Jensen-designed canoes. You'll hear rave reviews about them, too, because the Minnesota II is widely acclaimed by the dedicated paddlers, professional guides, and park rangers of the lake country as the ideal canoe for lengthy trips.
When Outdoor Life Network Adventure TV gave it their four-star Gear Guide Award, reviewers praised The Minnesota II's superior virtues for back-country excursions and camping trips.

Since we make it to use where week-long outings are typical, we gave this design high capacity and seaworthiness. It will hold two people with heavy gear and still cope well with lake waves.
Best of all -- and the reason it's so popular in the North -- is that the Minnesota II has unmatched performance when loaded. It will travel great distances, at high speeds, with less effort than any other tandem performance canoe.
And, if built in our Ultra-light Kevlar or graphite versions, it will make you look forward to the portages! We take the Minnesota II on our family trips since nothing else has its combined efficiency, capacity, and lightness.
Canoe & Kayak Magazine noted that, "Apart from its superb final stability, the best feature is how it returns to course in waves. Its performance in choppy conditions was impressive, and the canoe retained its glide even with a load."
Like the Minnesota II, our Champlain is also popular for long trips, but it has differing appeals. Although it has greater capacity and seaworthiness, the Champlain won't travel as fast, as easily, with a load. The Minnesota II is sleeker at the water. It also gives its paddlers an easy reach to perform effective strokes all day long with comfort.
Although designed initially for northern Minnesota, the Minnesota II has wider applications. Some other areas offer similar paddling opportunities, and this hull is ideal for trips on lakes and mild rivers wherever you find them.
Its superb performance and straight tracking also make the Minnesota II ideal to paddle lightly-loaded merely for the enjoyment of traveling swiftly.